Alko Hotel, committed to the Commercial Sexual Exploitation of Children and Adolescents "ESCNNA"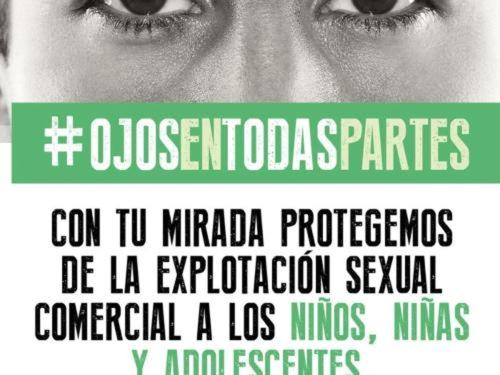 What is CSEC ?:
It consists of the use of the body of a child or of its representation for purposes of domination, gratification or profit, in exchange for a tangible or intangible remuneration, or a promise of retribution for the child-a or for another person. The child is treated as a sexual object and merchandise. It is a form of inhuman, cruel and degrading treatment and, therefore, assimilable to torture
What are your modalities ?:
Use of boys and girls in prostitution.
It is the commercialization of sexual activities of any nature with minors in exchange for money, goods or services; it includes the offer, the intermediation, the contact and the sexual "encounter" in streets or open or reserved businesses.
Includes the use of children in live pornographic shows, which take place publicly or privately.
Pornography with boys and girls.
The production of materials (photographs, negatives, slides, magazines, books, drawings, films, video tapes, computer disks or files) that represent children involved in explicit or suggested sexual activities, real or simulated, or sexual parts of a child, for erotic or commercial purposes.
The distribution, commercialization, purchase, sale and exchange of these materials.
The exhibition or diffusion by any means, in public or in private.
The possession or possession of them.
Trafficking in children for sexual purposes
It consists of "the capture, transport, transfer, reception or reception of persons, resorting to the threat or use of force or other forms of coercion, abduction, fraud, deceit, abuse of power or of a situation of vulnerability or the granting or receiving of payments or benefits to obtain the consent of a person who has authority over another, for the purpose of exploitation "(Protocol to prevent, suppress and sanction trafficking in persons, especially women and children. Palermo.2000)
Sexual exploitation of children and adolescents associated with travel and tourism
It consists in the offer and / or sexual use of children by people traveling from one country to another, or between cities in the same country.
The exploiters use the facilities offered by the tourism industry (hotels, bars, nightclubs, etc.)
In general, the sexual gamblers are arranged informally between friends or colleagues, pedophiles or not, and in some cases with the participation of travel agents.
Early marriages or servile marriage
It consists of the covert "sale" of girls, in the form of legal marriages, to be subjected to sexual and domestic servitude; the husband - usually an adult much older than the girl and with a superior economic position - pays a sum of money or a "contribution" to the family for the girl and then subjects her to sexual intercourse.
Sometimes it involves moving the child to another city or country.
The family perceives the husband as a "benefactor"
Use of children in armed groups (illegal)
Many children involved in armed conflicts suffer the trauma of war, not only as witnesses to the murders of their family members, but they are also abducted, forcibly recruited and suffer sexual abuse and exploitation.
These children are forced to have sexual relations with adults in military units and forced to carry out intelligence activities through sexual exchanges with opposing groups; in other cases, boys and girls are transferred by pimps to camps where they remain for days or weeks subjected to multiple and successive violations; other times, the IAG controls areas of prostitution where they are taxed to transit or stay in some areas or subject them to harassment and sexual abuse
Laws
Law 679 of 2001
The purpose of this law is to dictate protection measures against exploitation, pornography, sex tourism and other forms of sexual abuse with minors, through the establishment of preventive and sanctioning norms.
Law 985 of 2005
This seeks to adopt measures of prevention, protection and assistance necessary to guarantee respect for the human rights of the victims and possible victims of trafficking in persons, both residents or transferees in the national territory, as well as Colombians abroad, and for strengthen the action of the State against this crime.
Law 1329 of 2009
This law condemns with a minimum of 14 years
Colombia is a privileged country, for its magnificent biodiversity in flora, fauna, 2 oceans, innumerable rivers, climates, and a complete variety of ecosystems ranging from the beautiful beach at sea level to high peaks and peaks that are above the 5,000 meters above sea level
This makes us a unique country which the ALKO HOTEL BOUTIQUE and ALKO INTEGRATED HOTEL invites you to meet with responsible tourism.
More information on National Natural Parks at: http://www.parquesnacionales.gov.co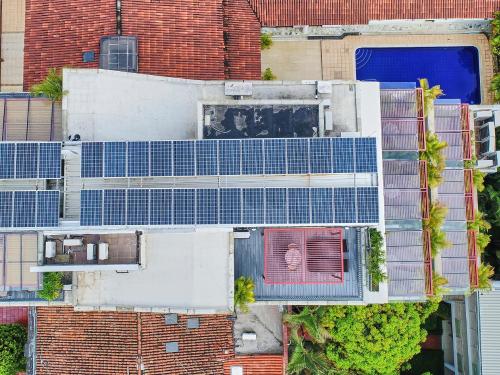 Alko Hotel Integrado está enteramente comprometido con la mitigación del impacto que su operación pueda generar al medioambiente. Hemos invertido en un sistema de energía solar fotovoltaica que inyecta su producción a la red, generando ahorros superiores al 50% en el consumo. Instalamos un sistema de filtros que recolecta el agua lluvia de las cubiertas del hotel y se suma con las capturadas por el alto nivel freático para abastecer el tanque de aguas sanitarias y cuya capacidad podría soportar nuestra operación durante dos días.
Invertimos mucho en el diseño, haciendo énfasis en propiciar el aire fresco y natural dentro del edificio y mantener temperaturas idóneas, con altos criterios de bioclimática que aportan ventilación e iluminación natural y flujo de aire por todo el edificio, evitando el uso de aires acondicionados. El sistema de iluminación del hotel es tecnología LED y cuenta con sensores de movimiento que nos permite ahorrar energía. Nos preocupamos mucho por incentivar a nuestros huéspedes para que tengan un consumo racional y eficiente de los recursos.
Cumplimos a cabalidad la norma NTS-TS-002, la cual específica los requisitos ambientales, socioculturales y económicos, y de gestión para la sostenibilidad aplicable a los establecimientos de alojamiento y hospedaje. Respecto a la Resolución 0549 de Construcción Sostenible, superamos los porcentajes mínimos exigidos de ahorro en agua y energía.